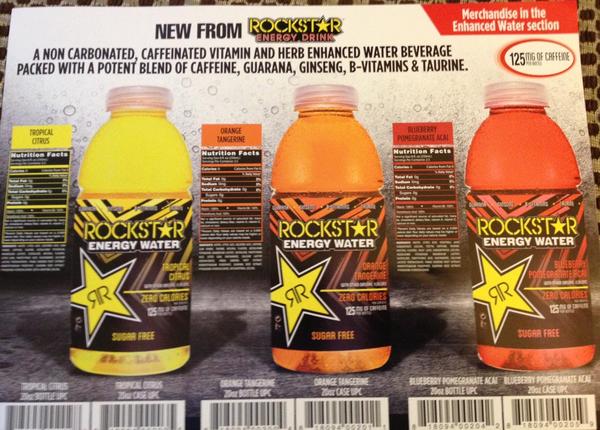 At the National Association of Convenience Stores (NACS) show earlier in October, Rockstar Energy revealed that they plan on launching a line of energy water.  While the timeline has not be revealed, the initial assortment listed on the sell sheet image include the following flavors:  Tropical Citrus, Blueberry Pomegranate Acai, Orange Tangerine.  BevNet has some more information and a quick video on Rockstar Energy's new products from the show (link here).
This launch from Rockstar Energy pits them against Coca-Cola's glaceau vitaminwater lineup, and PepsiCo's SoBe Lifewater and Aquafina Plus lineups.  The question becomes how Rockstar Energy can differentiate themselves against these already established brands.  Despite their positioning as "energy water", it will be difficult for them to be considered a dissimilar product from flavored water.  It is still an enhanced water beverage and may very well be shelved alongside Aquafina Plus or SoBe Lifewater (Rockstar Energy products are distributed by Pepsi).  And since consumers already have certain expectations for the price point, the new energy waters will have to be priced in a similar range.  There really isn't that much room for differentiation given what we already know.
So with Product, Place, and Price (the 4 P's of the Marketing Mix) already determined and largely out of their control, Promotion is the remaining lever Rockstar Energy can use to stand out.  Even then it is still a uphill battle.  In Canada, Aquafina Plus has constantly been on price promotions, to the point where there's also expectations for feature price points.  In the U.S., many retailers had ran similar promotions but also drove unit sales with a "$10 for 10" feature strategy.  How can Rockstar's Energy Water stand out?  Featuring on price – especially for a new entrant – will only upset the market dynamics and reduce profitability.
One option may be co-promoting with their energy drinks, which has an established presence that is much stronger than that of Amped, Nos or Full Throttle (possibly only Amped and Nos in the future, read about Full Throttle's de-emphasis here).  Leveraging on their stronger identity in energy drinks, they can offer consumers an alternative or additional Rockstar beverage when they are in-store.  Enhanced waters also do not carry the negative stigma that energy drinks have, so transitioning the "energy" equity from energy drinks to energy water may be a tactic to completely re-position themselves.
Another option would be to fully leverage their entertainment and sponsorship properties to feature this new product – in tandem with their energy drinks.  Offering samples of their energy water at their music and sporting events will increase their exposure to a captive audience.  Especially when their competitive products (vitaminwater, lifewater, aquafina plus) are shut out from these venues.  Especially when they offer a differentiated product than Red Bull and Monster Energy, should it be a multi-sponsor event.
While this is a very unique expansion from Rockstar Energy haloing off their "energy" brand association, it will be interesting to see how it can defend against the pressures of larger and more established brands.  This impending product launch has a chance to succeed, but only if they can carve out their own niche against glaceau, SoBe, and Aquafina Plus.