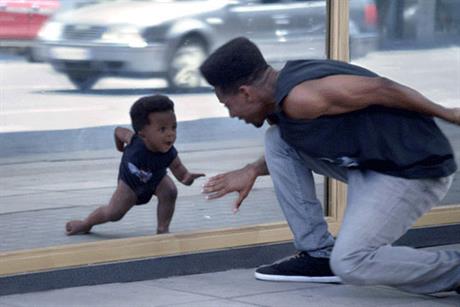 In a continuation of their Live Young global campaign debuting in 2009 with Roller  Babies and extended in 2011 with Baby Inside, evian has released the 2013 extension of the campaign: Baby & Me.  Maintaining their focus on babies and aligning that with natural purity, evian carries through their message of living young.  As adults look into mirrors and see a reflection of themselves in baby form – "babyfied" according to evian – they break out in dance as they connect with their inner youth.  See their commercial below:
Since 2009, there has been more digital involvment and evian has embraced that with this year's campaign.  Aside from the global launch of this video in 14 countries, evian's facebook page is launching a "Baby & Me" app that uses facial recognition software to babyfy the user.  The user can then share the babyfied version of themselves with their friends and social network.
With the incremental digital effort, there will likely be stronger engagement than the 2009 and 2011 campaigns.  Can't wait to see the app and try it out.  BevWire readers can see a babyfied version of me here, and try it out for yourself.