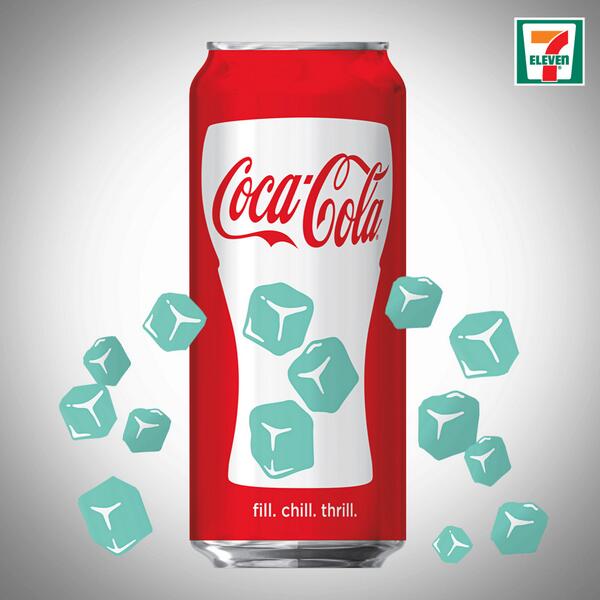 It's certainly been a busy summer for Coca-Cola with tons of consumer news from around the world.  Through a variety of news sources, BevWire has been able to pick up on a few of these news items.
First there was news of Coca-Cola partnering with 7-Eleven to provide summer-ready cold-activated aluminum cans exclusively (picture above).  These cans are available in 16oz (473ml) but there has not been any indication on whether they will also be available in the regular 12oz (355ml) cans, which would make it available nationwide to all retailers.  This continues a trend of beverage manufacturers making use of thermochromic ink to show that the soda (or beer in the case of Coors) are chilled to an appropriate temperature for cold consumption.
Following the news on color-changing cans, Coca-Cola announced that they had created a soda can that can be shared.  While I'm not fully sure if the designer logo featured in the video is the same as the Coca-Cola logo designed by Jonathan Mak (the same designer that gained fame creating the Steve Jobs Apple logo) – it certainly shows that Coca-Cola is all about passing along the message of happiness.  Being able to twist and share the core product itself may potentially lead to other opportunities about packaging.  And for regions and countries that focus intensely on calorie consumption, these sharing cans may be one way for Coca-Cola to say that they are limiting calorie intake (although this is only a positive byproduct of the original intention).  See the YouTube video below.
awesome idea via @beveragedigest where you can break apart one Coke can to SHARE with a friend. i'd do it. #BevWire ow.ly/lwKKO

— BevWire (@BevWire) May 30, 2013
Finally, there is news of Coca-Cola's European team following in team Australia's footsteps in customizing Coca-Cola cans with popular male and female names (link here).  As per the link detailing their European entry, this followed on the success of Coca-Cola Australian where sales improved 4% with these new customized soda cans.  With the customization project extending out to include a vending machine to personalize Coke cans and bottles, the project is truly showcasing ways to extend warm feelings.
The summer of 2013 is about to begin and Coca-Cola has shown that they are all about opening happiness and sharing this with everyone.  While these initiatives are all occurring in different parts of the world, the message that the company embraces is the same everywhere.  I'm sure that there are other strategies the beverage company plan on sharing the joy with consumers and these will be brought to light either this year, or at some other time.